Venue: The Variety Playhouse, Atlanta
Supporting Acts(s): Chairlift
In the Company of: Thomas S.
It's always a rush to see a band on the verge of success. So for most fans that night, it was pure excitement to witness the incredible sold-out show put on by this band from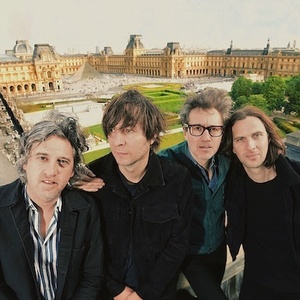 Versailles, France. Although Wolfgang Amadeus Phoenix is their fourth studio album, Phoenix have only recently enjoyed commercial success. Before joining Phoenix, guitarist Lauren Brancowitz played with the musicians who went on to form that robotic, electronic venture of Daft Punk.
Mars seemed simultaneously shocked and moved at the love he was receiving from the Atlanta crowd. Most every song was followed by a roaring reception. He told the fans, "Last time we played Atlanta there were about forty or fifty people in the audience. But now…"
For the diehard fans, the band played a few oldies, including "Run Run Run," "Consolation Prize," and "Too Young." Song after song, the bandmates seemed to be humbled by the sheer love coming from the floor. Mars had a look on his face that read, "This is the night we made it." It was a special occasion and an overall fun concert. Before the band exited the stage, Mars told us all that this was one of the best shows so far on their tour.
One encore included "Everything Is Everything," the incredible disco sounds of "If I Ever Feel Better," and the current hit "1901." As it was the last song, the band seemed to want to never leave the stage. Mars descended the stairs at the Variety Playhouse and made his way into the masses. He found a ledge on which to stand, gave some more thanks, then surfed his way back to the stage on a sea of hands. All this while the band jammed on. The world shall soon discover Phoenix and their perfect pop music.
Chairlift opened the show with some excellent indie-pop music. The band formed in Boulder, CO, but relocated to New York City where success quickly followed. You may have seen the iPod commercial featuring their song, "Bruises." Headed by Caroline Polachek, this group provided the hungry Phoenix fans with something to smile about – which is a rare thing to do for a support act.