Venue: The Tabernacle, Atlanta
Support: Deerhunter, Strange Boys
In the Company of: Chris, Joby S., Peter M.
Based in the musically rich Mecca of Austin, Texas, Spoon have lived a roller coaster ride of success. When singer Britt Daniel joined forces with Jim Eno in 1994, little did they know that they would become indie rock gods. It just took a while. Throughout the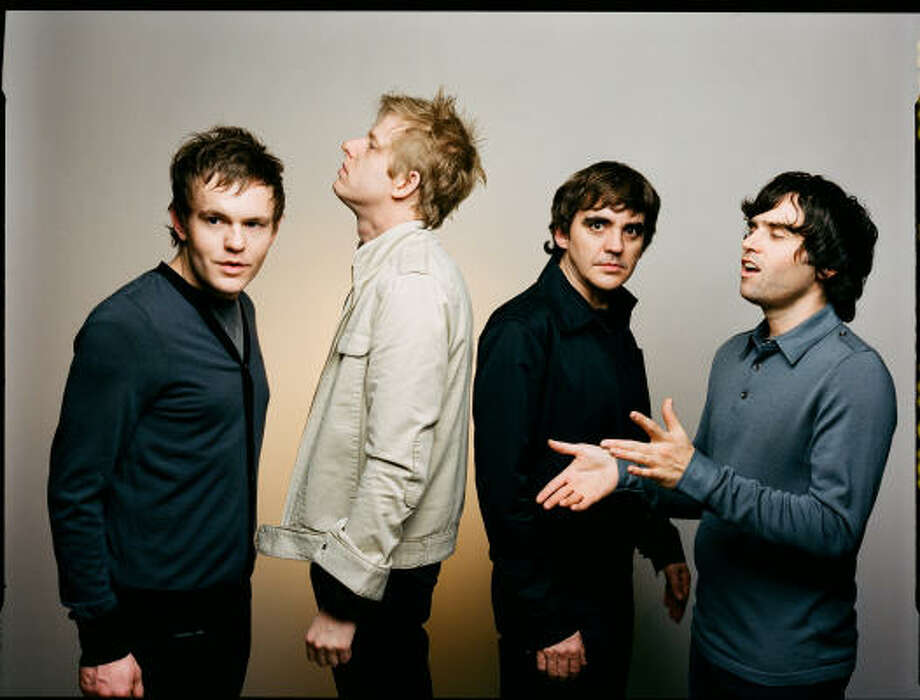 nineties, they were off and on record labels, becoming the poster children for what not to do with a musical career. Finally, in 2001, they released Girls Can Tell, and began a relationship with Merge Records that exists to this day.
Spoon's seventh studio album, Transference, debuted at #4 on the Billboard 200 in January. While not as poppy and accessible as 2007's huge hit Ga Ga Ga Ga Ga, Transference is a solid outing with many examples of a band stretching itself to evolve. While Ga Ga was the bands best selling record to date, Daniel will not rest on his laurels. He wants to push his band as well as his fans.
Touring in support of Transference, the band stopped by Atlanta's awesome Tabernacle Saturday night. It was a sold-out, standing room only crowd of old and new fans alike. Judging from the positive responses to some "oldies," it appeared that the venue was full of serious Spooners.
The band walked on stage wearing all black. Lit panels made up the backdrop, which changed colors frequently. For the first several songs, the lighting was kept at a minimum, not unlike the beginning the album – a bit dark. Alongside Daniel and Eno, former Get Up Kids bassist Rob Pope and keyboardist/guitarist Eric Harvey round out the band. The brooding bass line and catchy lyrics of "Mystery Zone" kicked things off.
By the second song, Spoon traveled back two albums to Gimme Fiction's "The Beast And Dragon, Adored." This is classic Spoon and a fan favorite. The evening was an even mix of old and new. Nine of the eleven tracks from Transference were performed, all to positive feedback from the audience. All totaled, 24 songs were performed with two encores.
Highlights included the emotional rescue of "I Turn My Camera On," "I Summon You," "Don't You Evah," "Trouble Comes Running," the terrific piano driven jumpiness of "The Way We Get By," and a full rocking version – drums and all – of "Small Stakes" ("Small time danger in your midsize car / I don't dig the stripes but I'll go for Har Mar / The big innovation on the minimum wage / Is lines up your nose but your life on the page / So c'mon…tell me I'm wrong"). Actually, on this evening, every song was a highlight. Some fans go to shows hoping a band does their album justice. Spoon exceed expectations, offering up performances superior to their recorded material. This band just must be experienced live. Daniel is a passionate and fiery performer with exceptional guitar skills. He was in the groove the entire evening and kept the crowd there, as well.
http://www.cbs.com/e/ZHbUvjvxjq0JqdU6eexvpaXGBUX9efAD/cbs/1/
While Spoon has had their ups and downs, it seems as if they're in for a future of "ups." On this night, Spoon was the tightest four-piece on the planet. Even with two encores, the band left fans wanting more.
Opening the show were fellow Austin natives Strange Boys. This may be an apt name, as lead singer Ryan Sambol has a "unique" voice. It could almost be compared to a young Bob Dylan, but with better enunciation (with a touch of Julian Casablancas thrown in). While that voice was sometimes hard to get around, the music was very good. There were various ingredients, including twang, country, and plenty of sixties feel (all played in a garage).
Atlanta natives Deerhunter were up next. Bradford Cox leads this indie rock outfit he describes as "ambient punk." Listeners may hear the band's influences of Echo and the Bunnymen, David Bowie, and Brian Eno coming through in their live performance. Between songs, Cox made several references to his mother, aunt, and cousins who were in attendance.
Deerhunter's post-punk feel went over well with the crowd. Excellent musicianship and strong vocals promise to offer a lot of exposure for these guys in the future. An opening slot on the Spoon tour won't hurt, either.
Set list
Mystery Zone
The Beast and Dragon, Adored
My Mathematical Mind
Someone Something
The Ghost of You Lingers
Is Love Forever
Goodnight Laura
I Turn My Camera On
Written in Reverse
Who Makes Your Money
Don't Make Me a Target
Out Go the Lights
The Underdog
I Summon You
Got Nuffin'
Don't You Evah
Trouble Comes Running
Black Like Me
Encore 1
The Way We Get By
Nobody Gets Me But You
Vittorio E.
Encore 2
Rhythm and Soul
Small Stakes
Cherry Bomb